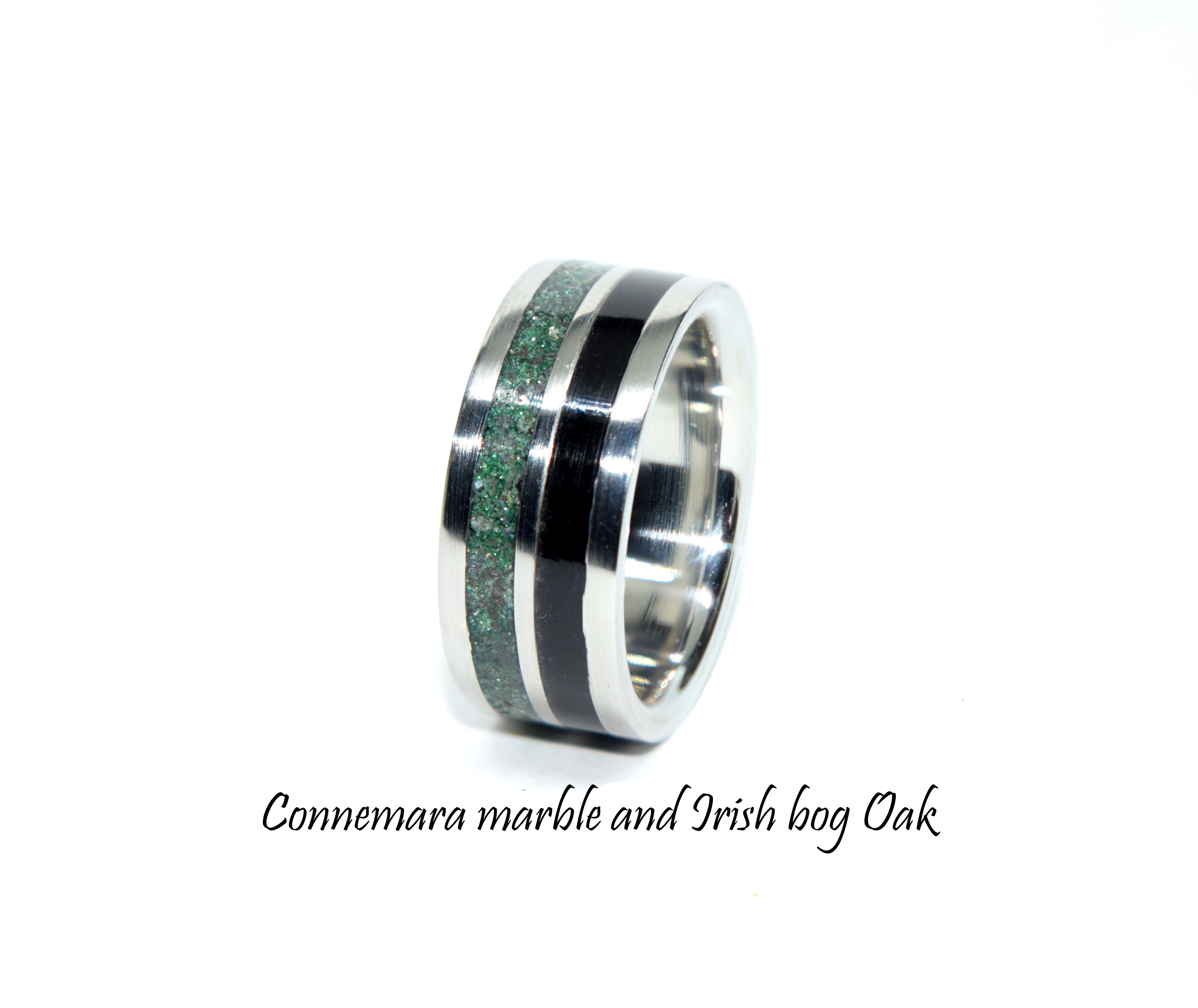 Celtic Irish wedding ring, bog Oak wood rings with Connemara marble.
€ 160.00
Celtic Irish wedding band engagement rings, unique and lovingly crafted with Connemara marble, 5000-year-old Irish bog Oak and medical grade stainless steel wedding band engagement ring. A truly handmade ring that is a real work of art and steeped in Irish history.

Custom ring width: 0.8 - 1.2 cm only
Ring thickness: 0.2 cm Approx.
The ring in the photo is at 1.0 cm wide


IRISH BOG OAK
holds its pride of place throughout Irish history and is one of the more majestic of the Irish woods. The bog Oak we use is totally black, so it must be 5000-6000 years old at least. It was excavated from the midlands of Ireland from a bog where once stood part of a great Oak forest that covered a large part of Ireland four to six thousand years ago. When one of these great Oaks fell into a swamp which later turned into a bog, the chemistry of the bog reacted with the wood, preserving and transforming it creating its unique colour. Peat bogs where bog Oak is normally found usually as a by-product of turf cutting make up about 5% of the Irish landscape. Today because of the wonderful conservation efforts being carried out here in Ireland bog Oak has become very scarce indeed.


CONNEMARA MARBLE
is an extremely rare form of marble found in north west corner of County Galway, Ireland. It is typically a greenish colour but can have shades of grey and brown throughout, it is said to be one of the rarest marbles in the world with its origins dating back 600 million years. The marble we have used was recycled from an old Connemara marble fireplace mantel.