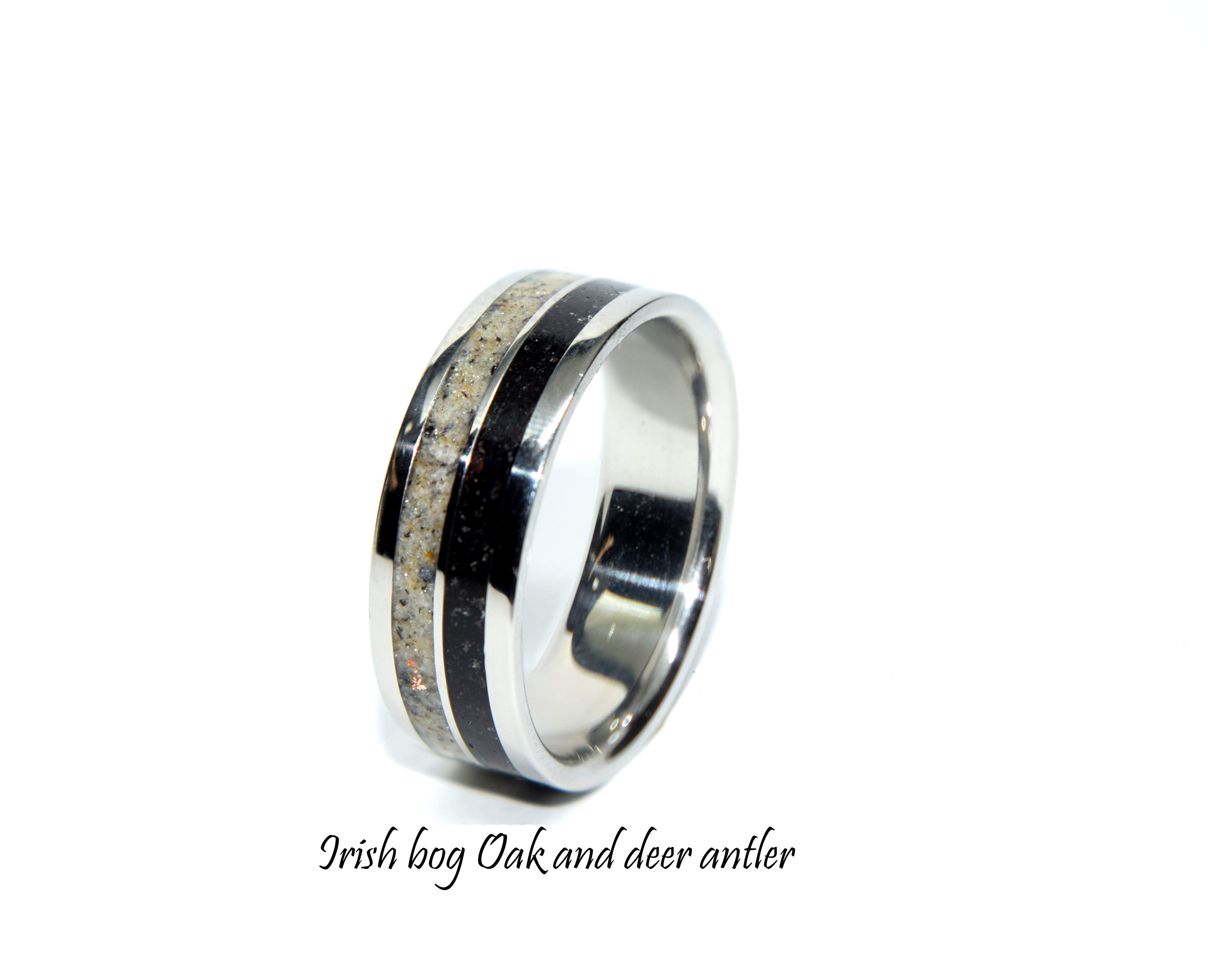 Celtic wedding band engagement rings, Irish bog Oak wood inlay rings.
€ 160.00
Handmade Celtic Irish wedding band engagement rings, unique and lovingly crafted from 5000-year-old Irish bog Oak, Irish deer antler and medical grade stainless steel. No two rings are ever the same, a truly handmade ring that is a real work of art and steeped in Irish history.

Custom ring width: 0.8 - 1.2 cm only
Ring thickness: 0.2 cm Approx.
The ring in the photo is at 0.8 cm wide


IRISH BOG OAK
holds its pride of place throughout Irish history and is one of the more majestic of the Irish woods. The bog Oak we use is totally black, so it must be 5000-6000 years old at least. It was excavated from the midlands of Ireland from a bog where once stood part of a great Oak forest that covered a large part of Ireland four to six thousand years ago. When one of these great Oaks fell into a swamp which later turned into a bog, the chemistry of the bog reacted with the wood, preserving and transforming it creating its unique colour. Peat bogs where bog Oak is normally found usually as a by-product of turf cutting make up about 5% of the Irish landscape. Today because of the wonderful conservation efforts being carried out here in Ireland bog Oak has become very scarce indeed.


RED DEER
are Ireland's largest and only native species to Ireland. They are said to have inhabited Ireland since the end of the last Ice Age (c. 10,000 BC) they roamed freely throughout Ireland, unfortunately as for so much of Ireland's flora and fauna because of deforestation, over hunting and the Great Famine (1845 - 1847) many Red deer populations became extinct. The Stag antler I have use in designing these rings was found in April 2012 deep in the Kerry mountains where after the deer rutting season a stag had shed, or cast, his antlers. Red Stag deer shed or cast their antlers every year in this way.


*****NB: It is important for you to be professionally sized before you purchase a ring as a stainless steel ring cannot be resized.

When being sized for a ring it is important to remember the WIDTH of the ring will be a major factor in determining the size of the ring you require. Be sure to get sized with the appropriate width of ring you are considering purchasing from us.

Each ring is individually handcrafted by us so please allow 3-4 weeks before shipping we do provide rush orders when possible but please email me first to check availability*****.