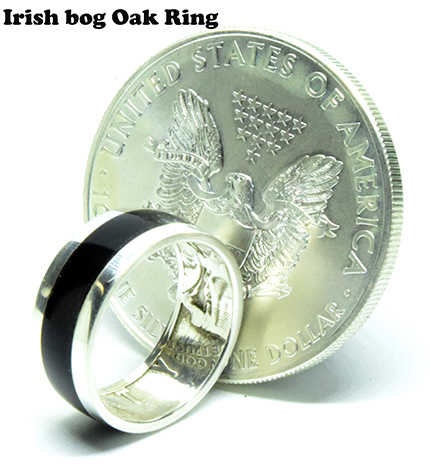 Irish bog Oak jewelry rings, Celtic bogwood gift for him
€ 170.00
Handmade traditional Irish bogwood gifts. A stunning, unique Irish free state silver coin ring with an ancient Irish bog Oak wood Inlay a perfect gift for him.
As nature would have it each ring will differ slightly as every cut of wood we use has its own unique colour and characteristics.
IRISH BOG OAK…
This timber holds its pride of place throughout Irish history and is one of the more majestic of the Irish woods. The bog Oak I use is 5000-6000 years old it was excavated from the midlands of Ireland from a bog where once stood part of a great Oak forest that covered a large part of Ireland four to six thousand years ago. When one of these great Oaks fell into a swamp which later turned into a bog, the chemistry of the bog reacted with the wood, preserving and transforming it creating its unique colour. Peat bogs where bog Oak is normally found usually as a by-product of turf cutting make up about 5% of the Irish landscape. Today because of the wonderful conservation efforts being carried out here in Ireland bog Oak has become very scarce indeed.
**** If placing an order for 2 rings of the same design please note there is no option to select the size or width of the second ring, not to worry you can leave a note on the checkout form of the sizes you need****
*******IMPORTANT PLEASE READ*******
All rings are shipped to the exact size ordered so be sure to be professionally fitted before placing an order, when being fitted be sure to take into consideration the width of the ring you may be ordering.
We do accept returns for exchange for incorrect sizes that may be ordered, however rings cannot be resized so we have to make a complete new ring, because of this we do ask a very small additional fee just to cover shipping and taxes that we have to pay for the supply of a replacement ring.