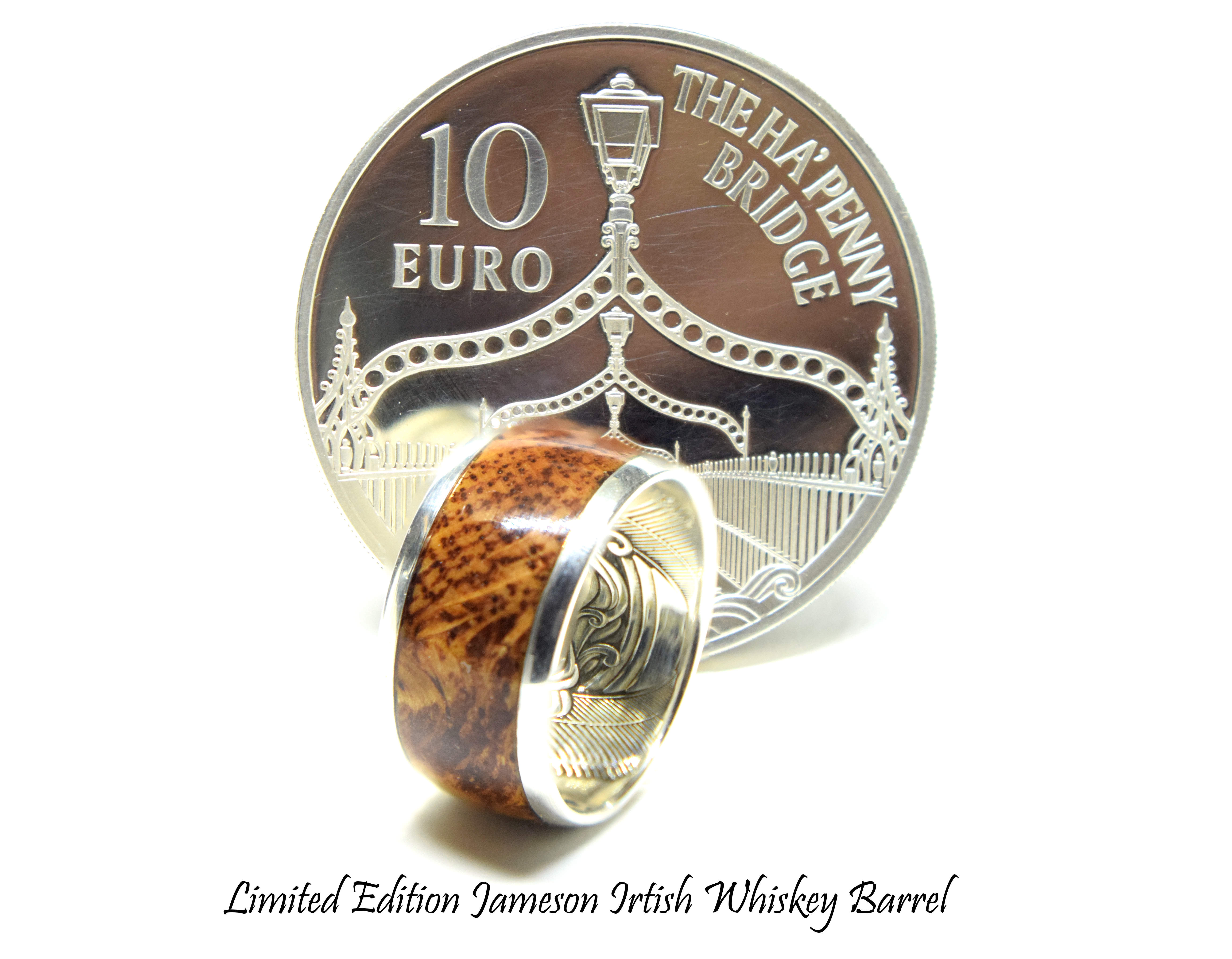 Irish coin ring. Jameson whiskey barrel wood ring. limited edition silver coin ring
€ 230.00
Hand carved Irish Jameson whiskey barrel wood ring. Unique silver Irish wedding rings featuring a limited-edition .925 silver proof coin depicting the iconic Ha' penny bridge in Dublin. There are only 4000 of these coins minted so stocks will most definitely not last, these rings are limited and truly unique.

CERTIFICATE OF AUTHENTICITY.
These coins are LIMITED EDITION. Each ring will come with the original unique certificate which came with the coin when issued from the Dublin mint office, Central bank of Ireland.

Custom ring width.
The ring in the photo listing is 1.0 cm wide
Each ring is approx 2mm thickness

****When considering the with of the ring please take into consideration the smaller the width the more central the inlay becomes... "the wider the better"****

AMERICAN WHITE OAK...
I was lucky enough to obtain an Irish whiskey barrel made from American white oak. This barrel is more 100 yrs old and would have been used In America many years ago to store and mature bourbon before making its way to Ireland to store and mature Jameson Irish whiskey. It would have had Irish whisky soaking into its wood for at least 18 yrs.

NB: It is important for you to be professionally sized before you purchase a ring because our coin rings cannot be resized. The WIDTH of the ring you decide to purchase will determine the size of the ring you need so please take this into consideration when being fitted.

NB: These rings are unique and individually handmade for you, they are expensive to make, so if it occurs that a ring is purchased and the INCORRECT SIZE is ordered we will replace the ring but there will be a fee of at least half the original cost.
*******IF YOU DO NOT AGREE WITH THIS PLEASE DO NOT PURCHASES THIS PARTICULAR RING FROM US*********

Each ring is individually handcrafted by us so please allow 3-4 weeks before shipping we do provide rush orders when possible but please email me first to check availability*****.